LINKS | Mike Nova's Shared NewsLinks Review
Mike Nova's Shared NewsLinks
Rights, Freedoms Are Victims Of Central Asian Economic Crisis
---
Freedom House just released its annual Nations In Transit (NIT) report, an indispensable look at the human rights situation in 29 countries, including all five Central Asian states.
Russias Separate Piece Sets Off Alarms About a Cold War Revival
---
Fishermen casting from a breakwater in February as a ship from the Baltic Fleet sailed from the port of Baltiysk in Russias westernmost province.
Race for Latest Class of Nuclear Arms Threatens to Revive Cold War
---
Buildups by the United States, Russia and China unsettle the balance of destructive force that has kept the nuclear peace for more than a half-century.
Pentagon Reports Another Russian Jet Incident in Baltic Sea
---
A U.S. Air Force reconnaissance plane flying over the Baltic Sea was intercepted by a Russian Su-27 jet in what the U.S. military said Saturday was "an unsafe and unprofessional manner." The statement from the U.S. European Command said the incident occurred Thursday in international airspace and at no time did the American plane cross into Russian territory. A U.S. military spokesman told CNN that the jet "performed erratic and aggressive maneuvers" as it flew as…
Head of British Spying Agency Apologizes for Its Treatment of Gays
---
Robert Hannigan, left, the director of the Government Communications Headquarters. He told a gathering organized by the human rights group Stonewall that the agency needed people who dare to think differently.
VIDEO: Castro addresses Cuba congress
---
Raul Castro has told members of the ruling communist party that privatisation and neo-liberal values will never be applied in Cuban socialism.
Powerful 7.8 Magnitude Quake Hits Ecuador's Coast
---
A powerful 7.8 magnitude earthquake struck Ecuador's central coastal region Saturday, sending people in the capital, Quito, fleeing into the streets. The U.S. Geological Survey
reported that the epicenter was in a sparsely populated coastal area, about 170 kilometers northwest of the capital. There were no reports of injuries or damage, but authorities said hazardous tsunami waves were possible along local coasts.   In the capital, there were reports of power and telephone…
U.S. Reports Another Close Call With Russian Warplane Over Baltic Sea
---
The U.S. military says there has been another close encounter between a Russian warplane and a U.S. Air Force reconnaissance plane over international waters of the Baltic Sea the second such incident within a week.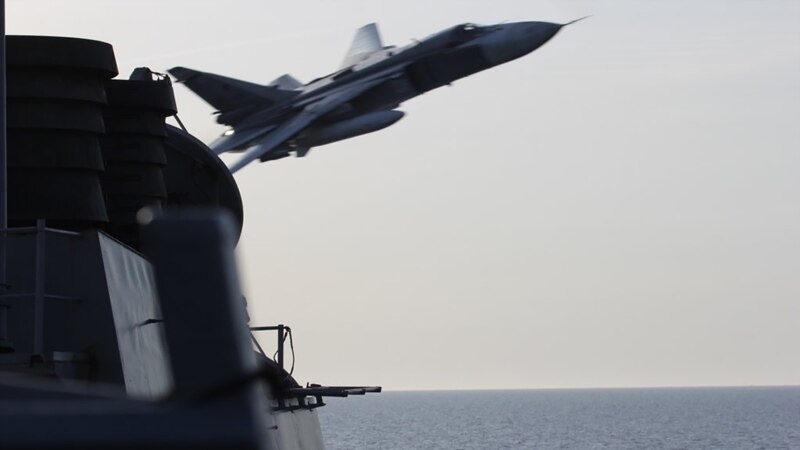 Russian jet threatens US reconnaissance aircraft – Fox News
---
Iraqi Forces Fight Islamic State Militants For Shi'Ite Town
---
Shi'ite militia fighters, backed by Iraqi government forces, battled Islamic State militants around Al-Bashir in Kirkuk Province on April 15. The town, with a mostly Turkoman population, was one of the only Shi'ite areas in Iraq under the rule of the militants. (RFE/RL's Radio Farda)